Aesthetics of a hotel play a huge part in making a stay special and memorable. It completely changes the way you feel about your stay. Join us as we take a look inside one of Europe's best-dressed hotel: Ett Hem in Stockholm.
'Ett Hem' which translates to 'A home' is a boutique hotel designed by Ilse Crawford – the queen of design herself known for her masterwork at Soho House. Capturing the essence of 'A home' perfectly Ett Hem is steeped in Scandinavian antiques and unique furniture. It is adorned in oak, gotland stone, sheepskin with brown and cream tones giving it a contemporary yet a vintage feel – It is an interior lovers dream!
"It is a home away from home"
Located in Stockholm's tranquil Lärkstaden district and hidden behind brick walls lies the gem of Stockholm. It is nearly impossible to tell what lies behind these walls from the outside but you are in for a real treat once you enter. As soon as you enter you are greeted with warm, friendly and laid back Swedish hospitality it instantly makes you feel like you are at home away from home.
 It is an intimate affair at Ett Hem with only 12 rooms. Each room has been individually designed with carefully picked artworks, antique chandeliers and contemporary furniture. The earthy tones of the walls compliment the wood panelling perfectly and add warmth and elegance to the whole room. The free-standing bathtub with brass details in the bathroom really gives it a vintage feel at the same time.
Keeping in line with the Swedish culture, the hotel revolves around seasons. You can enjoy the leafy garden in summer or borrow the bike and explore Stockholm. The house is filled with light and vases with flowers during this time of the year. As winter approaches the fire begins to roar and the homely feeling deepens as the feeling of warmth spreads.
"It is not just the design but also the lifestyle that revolves around it"
The special thing about Ett Hem is not the design alone but also the lifestyle that revolves around it. The idea at Ett Hem is to feel at home and this boutique hotel certainly delivers that. No honestly, we are not just saying this. Fancy a piece of that delicious cake you had earlier in the middle of the night? No need to call room service simply pop downstairs (with your blanket) open the fridge and help your self or curl up by the fireplace and finish off that book you were reading. It is just like being in the serenity of your own home – a home that is elegant and luxurious.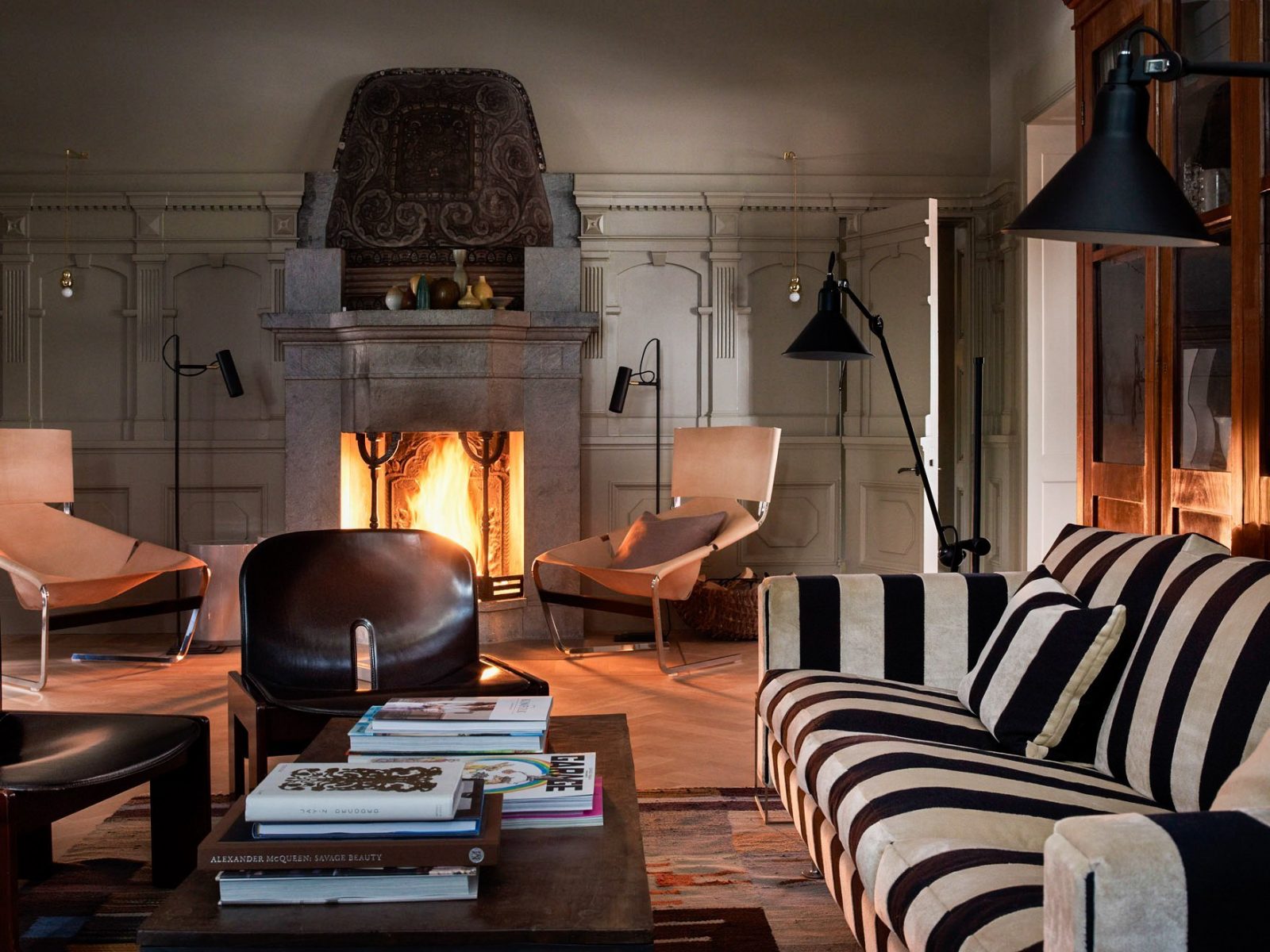 There is no such thing as a restaurant at home what you will be treated to is the comfort of your own kitchen. The menu is drawn up every morning so you can experience new flavours and dishes every day. The food is made using fresh local produce so even after indulging in several courses you will be left feeling healthy and revitalised.
The most amazing thing about Ett Hem is that there is no set time for dinner or lunch or even breakfast you can eat whenever you want and wherever you want in the house. You are welcome to do as you please, the laid-back hospitality is a slice of heaven and at the same time, every last detail will be taken care of. The presentation of the food and the perfect surrounding will instantly get you snapping for Instagram.
Our favourite part of the whole house is the greenhouse which overlooks the courtyard garden. There is ample natural daylight and in the evening winding down with a glass of Bordeaux watching the night stars will make you forget you are in the heart of a buzzing city.
The hardest part of the whole experience will be checking out – leaving this slice of paradise and getting back to reality is a real challenge. There are only a handful of such beautifully dressed hotels in Europe and Ett Hem has set the bar very high.